Neoclassical style
Neoclassical architecture describes buildings that are inspired by the classical architecture of ancient Greece and Rome.
Contents:
After the ancient Roman cities of Herculaneum and Pompeii were discovered in the mid-1700s, artists sought to revive the ideal of classical Greece and Rome in architecture, sculpture, painting, and the decorative arts.
Architects and artists adopted Neoclassicism for aesthetic and political reasons, and the style flourished during the revolutionary periods in France and the United States.
Spaces for which neoclassical is suitable
Neoclassicism is suitable for spacious rooms that are flooded with sunlight. You can make such an interior in a room with high ceilings and large window openings.
Neoclassic conveys centuries-old traditions, constantly weaving the latest fashion trends into them.
Elegant, luxurious and timeless, neoclassical design is all about melding tradition with modern, contemporary pieces for an interior that will seriously impress.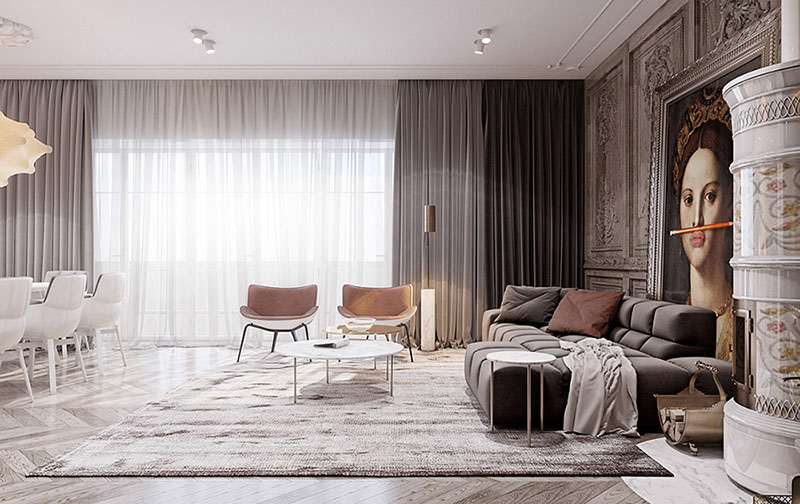 Prevail colors in neoclassicism
The neoclassical interior, radiates light, warmth and harmony. Light colors, shades of cream and beige are suitable for the design of the hall.
The role of contrasting dots is performed by the decor of green, brown, red, blue, orange. As a result, the room is associated with an atmosphere of serenity and peace.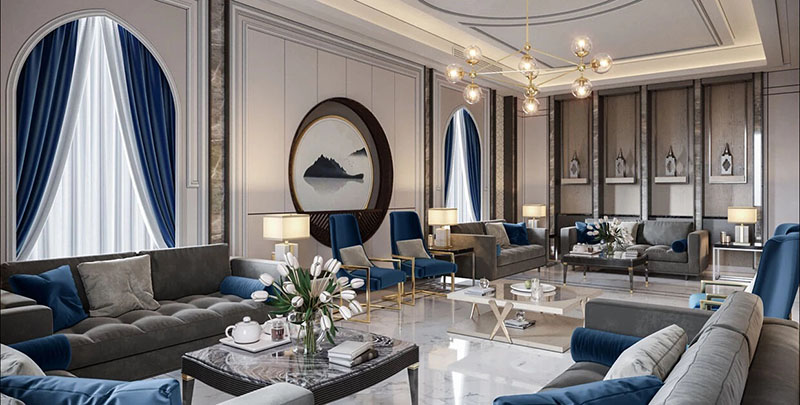 Neoclassical Drapes
When decorating windows in neoclassic use plain curtains or textiles with floral prints. The color palette includes restrained and muted shades of brown, blue, turquoise, beige and gray.
In accordance with the status of neoclassic, it is necessary to buy curtains made of expensive fabrics: velvet, brocade, ottoman, satin, linen.
Dense curtains - an indispensable attribute of the neoclassical style.
Soft and calm shades are ideal for decorating the interiors in neoclassical style.
Accessories
As the colorway stays refined, it's the shapes and accessories where the bold statements are made. Think bulbous furniture and classic styling, but add an element of luxury with gold hardware lighting, beautiful artwork or a chandelier.
Take inspiration from the style's Greco-Roman roots and decorate with ornaments for authenticity use—but don't go overboard.